Rosis Kitzbuhel on the Bichlalm
Rustic cosiness & warm hospitality
Welcome to
Rosis Kitzbuhel Sonnbergstuben
Rosi, Fridel & the whole team are happy that you found your way to the Alm. The Rosis Kitzbuhel Sonnbergstuben has been a popular meeting place in Kitzbühel for 50 years now.
Our opening times from May 20th, 2021:
MON & TUE: Closed in the restaurant
WED – SAT: 12:00 p.m.
– 9:45 p.m. hot meals throughout SUN: 12:00 p.m. – 8:00 p.m. hot meals throughout
General curfew: 10:00 p.m.
Grill your own
The Rosis Kitzbuhel Sonnbergstuben guest becomes a grill master himself at the OFYR, while the kitchen takes care of side dishes and sauces. The grill at the end of the dining table is the ideal place to talk about steaks, cooking levels and the best BBQ sauce, to have a great evening with friends or colleagues or to meet new people. "The guests have a lot of fun and the overall situation is relaxed and exciting at the same time," says head chef Fridel Schipflinger. "Our guests can choose how they want the steak to be prepared. And we advise you on this ".
Tips for the perfect steak come personally from Fridel, who is always on call with spices, sauces and grill accessories. High quality meat such as Black Angus fillet Nebraska USA, Prime Rib Steak Dry Age Argentina or prawns, salmon, monkfish, local trout are offered, as well as homemade sauces, selected wines and local beers.
All these ingredients guarantee the perfect evening on the terrace of the Sonnbergstuben
That's how it works:
Reserve a table on the terrace
Book a "Grill your Own" experience
OFYR table grill is brought and filled with glowing coal (ready to grill within 10 min.)
Drinks, salads & side dishes e.g. baked potatoes, french fries, corn on the cob and much more. To order
Meat selection: Fridel comes to the table with a cart and you choose your best piece of fish and meat; Prices are based on weight & quantity
As long as all the ingredients are at the table, we deliver grill accessories such as tongs etc. and the grill experience can begin
Fridel is always available for questions about grilling & seasoning
We wish you good luck and lots of fun from Rosis Kitzbuhel !
Grill me softly
Hearing the flames crackling, chatting with friends and eating something freshly prepared in between: that's what makes a fire so attractive, pure male romance. Back to the origins, when you had to kill your meat before it came over the fire. Those days are of course over – but the feeling of the campfire can still be experienced. Barbecuing has always attracted us humans. it is an art, a passionate love. Grilling is an attitude towards life that Chef Fridel shares. His passion has always been fire and flames. With the Ofyr, the chef has now found a new cooking and grilling experience with fire.
"You have to experience it to describe it. For me it is unique," says head chef Fridel Schipflinger about his new passion.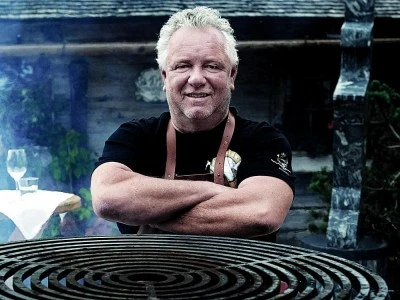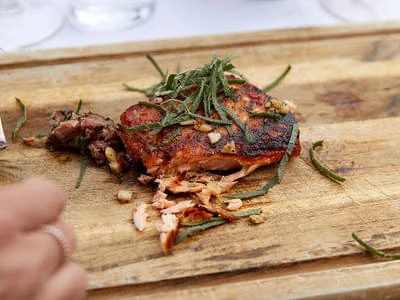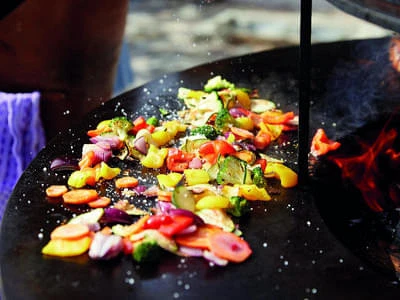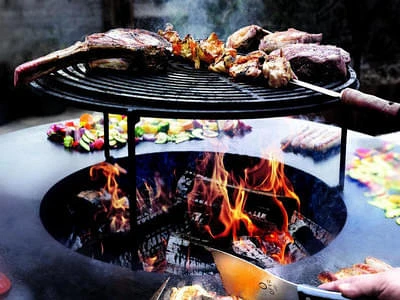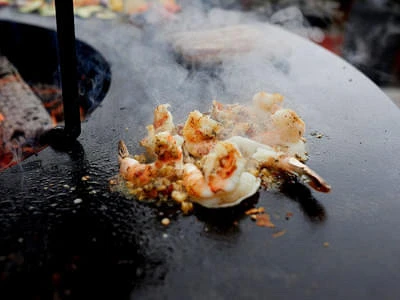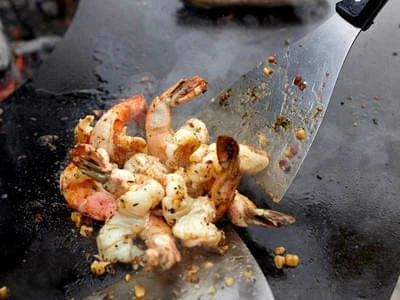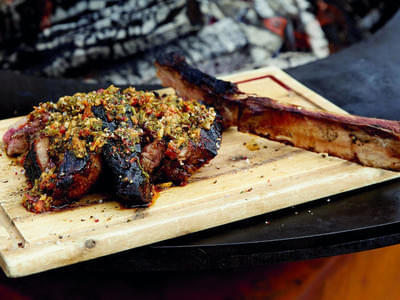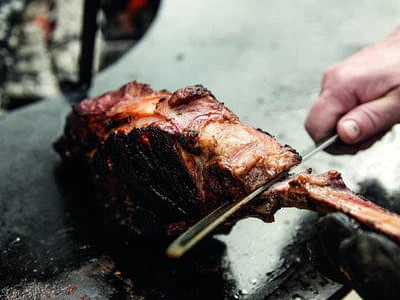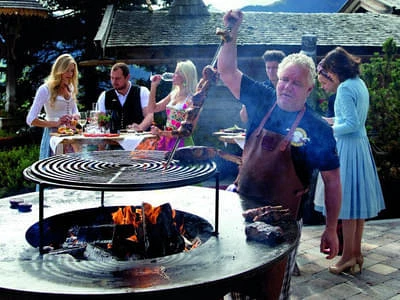 "For me personally, the Ofyr is just awesome. You cook with the fire instead of on the fire and as a cook you are right in the middle of the action, among your guests and friends. Not hidden behind a cloud of smoke, but in the middle of the warmth of the group. This grill brings people closer to each other and the art of cooking ", says Chef of the Year Fridel Schipflinger.
Everything is possible, everything that is tangible comes on the OFYR. Whether little things or refined dishes in a pan and saucepan, from wok vegetables or grilled vegetables and fried or scrambled eggs to desserts such as pancakes or fried and flambéed fruits. One begins to experiment at the OFYR.
"The Ofyr inspires me – surprising preparations are constantly being made on the solid circular cooking surface. Grilling takes on a new dimension. Burning instead of burning, frying, flambéing; Ofyr keeps my passion rekindled. "
Awards
Rosi and son Fridel always try to preserve their tradition and offer their guests a family atmosphere. The entire team puts great emphasis on this. At the same time, Rosi and Fridel also make sure that they do their best to meet international restaurant and hotel standards. In recent years this has been appreciated and honored many times – the Rosis Kitzbuhel Sonnbergstuben has been able to look forward to numerous awards.
"WALK OF KITZ" – AWARD FOR ROSI
City of Kitzbühel:
"Anyone who embarks on the" Walk of Kitz "path in the KITZ GALLERIA will get to know legendary sports legends and impressive personalities. The first lady was honored. On January 19, 2018, the two hosts, KR Fritz Unterberger and Hermann Oberreiter, presented one of the coveted stones to Rosi Schipflinger. Numerous prominent guests have already paid a visit to the singing innkeeper of the Rosis Kitzbuhel Sonnbergstuben. With her cordial nature and her iconic interludes, she has long been one of the prominence of the chamois town herself. "
AWARDS
Skiarea summer test "Best Mountain Restaurant GOLD"
Ski area test winner 2019, award "Most popular mountain restaurant 2019"
Ski area test winner 2019, "Chef of the year"
Award "Conscious Tyrol" 2017, 2018 & 2019
Luxury Hotel & Restaurant of the Year (Tyrol)
Honorary diploma from the Tyrol Chamber of Commerce (1999)
Gold medal for special services to local tourism (2002)
Cross of Merit of the State of Tyrol in Gold (2010)
Chaine de Rotisseurs Rosi (2010)
Chaine de Rotisseurs Fridel (2014)